Spanish Ham from Jabugo (Huelva)
Ibérico Products from Jabugo available at IberGour
Sánchez Romero Carvajal Recebo Shoulder

-

García Domingo

IberGour sells Sánchez Romero Carvajal hams from several distributors. Each one selects their hams in the producer's aging room according to their own criteria, so the hams may differ from one distributor to another.

In any event, all purchases are made on IberGour.co.uk, and IberGour is responsible for charging for the order, sending the product and after-sales service.

Jabugo Shoulder Cuts
(Paletillas)

5 Jotas Bellota Ham

-

García Domingo

IberGour sells 5 Jotas hams from several distributors. Each one selects their hams in the producer's aging room according to their own criteria, so the hams may differ from one distributor to another.

In any event, all purchases are made on IberGour.co.uk, and IberGour is responsible for charging for the order, sending the product and after-sales service.

€434.24

jamón weighing 7.25 Kg

Jabugo Hind Leg Cuts
(Jamones)
"Jamón de Jabugo" is ham that has been produced and prepared in Jabugo (Huelva, Spain), a village that belongs to the Jamón de Huelva Designation of Origin and has a total of 6 producers registered with the Producers' Association.
---
Jabugo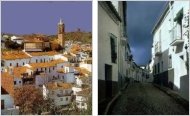 The village of Jabugo
Jabugo is located in the Sierra de Aracena y Picos de Aroche nature park, in the northern part of the province of Huelva (Andalusia, Spain). Situated 658 meters above sea level, it has a population of 2,600 inhabitants.
In Jabugo, productive activity essentially revolves around the holm oaks, grains, olive trees, pigs and pork products (jamones and chacinas) for which it is famous. Legend has it that hams were created when a pig one day fell into a gully with very salty water, and drowned. Shepherds found the pig and roasted it, discovering that the meat - particularly the hind leg - had a pleasant flavour. Later they discovered that when the hind leg was salted it lasted longer without losing its flavour, and the method was thereafter perfected. Today, spanish Iberian ("Ibérico") ham constitutes one of the world's most exquisite products.
Pigs and the "dehesa"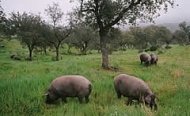 Pigs pasturing in a Jabugo dehesa
Pigs here are either pure Iberian breed (black and "retinto") or Duroc-Jersey crosses with 75% Iberian blood. In Jabugo there is also a native strain known as "Manchado de Jabugo" because of the white spots on its skin ("manchado" translates literally as "stained"). Its flesh is red, and its fat is very soft and grayish-yellow in colour.
Pigs begin foraging upon reaching a weight of about 90 Kg, and continue until attaining their ideal weight of around 170 Kg, between the months of January and February.
They grow in an ecosystem, the "dehesa", that is similar to the dehesa de Extremadura: large tracts of sparsely wooded land with scattered trees, mainly holm oaks. Iberian breed pigs are the only animals of this species in which stored fat is redistributed thoughout the body, infiltrating the muscle fibers. When the pig has consumed a diet with a high acorn content this fat is of superior quality, giving the flesh its characteristic texture, aroma and flavour.
More about ham...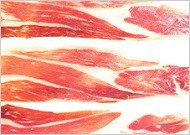 Jabugo ham slices

Bellota quality label
(a diet exclusively of acorns)
premium quality
Salting of Jabugo hams is done with sea salt. Hams then undergo a natural drying and maturation process in a bodega for a total of almost 3 years, after which they are tested. For this purpose a tibia bone from a horse or cow, or a fine, sharp wooden tool is inserted into each of the three ham joints to determine whether it has completed the final stage of the curing process and acquired optimum flavour for consumption.
Jabugo hams are long and slender, with the characteristic shape given by the V-shaped "Serrano" cut, as it is known; they also bear a brand mark on the skin. The hoof is black, and the outer fat is soft and smooth in texture. They are notable for the quantity of fat marbling their flesh, giving them a delectable texture.
Iberico de "bellota" quality Jabugo ham comes from pigs that have had a diet exclusively of acorns and grasses during the montanera (finishing period), as they graze and forage in the dehesa woodland. Iberico "recebo" quality Jabugo ham is from pigs which have also eaten acorns in the dehesas, but whose diet in the last months has been supplemented with high quality commercial feed authorized by the Producers' Association.
The ham curing process takes from 18 to 30 months from start to finish, including cutting, salting, washing, drying and maturation. Depending on the weight of the ham the curing time may be longer. For shoulder cuts, which are smaller, the curing process lasts between 10 and 18 months, although larger pieces may take longer.
They can be recognized by the seal and red band, which should both bear the same alphanumeric code.
Some figures...
In 2005, the Producers' Association of the "Jamón de Huelva" Designation of Origin awarded certification of maximum quality ("bellota" Iberico products) to 38,955 hind leg hams and 35,182 shoulder cuts, most of them from Jabugo, Cumbres Mayores, Cortegana y Aracena.
See also
Ibérico de Bellota Ham in Spain
» Spanish Ham from Jabugo
Buy from IberGour