Boffard Reserva Sheep Milk Cheese

(based on

17

customer reviews)
Price:

€18.25

(

€18.25

/Kg) +

€15.77

Standard Shipping costs (

€9.20

for orders over

€200.00

)
---
Better together
---
Other similar products
---
Description of Boffard Reserva Sheep Milk Cheese
Price

€18.25

/Kg VAT included

Curing

At least 8 months.

Producer

Mantequerías Arias

Processing

Made with raw Manchego sheep's milk in Valladolid (Castilla y León) in the Castilian tradition. Carefully rubbed with virgin olive oil and aged in cheese cellars for 8-18 months.

Taste note

A pressed cheese, buttery and ivory-colored. Intensely aromatic and strong flavor.

Storing and enjoying your cheese

Tips for savoring all the aroma and flavor of this cheese:

Keep it in a cool, dry place between 2º and 8º C (you can use the lower part of your refrigerator).
Serve it at room temperature.
After cutting the cheese, store it immediately in the refrigerator in a hermetically sealed plastic container along with a piece of dry bread. The bread will absorb moisture and protect the cheese from mold and excessive drying. Replace the bread when it is covered with mold.

Nutritional information

Each 100 grams of this cheese contains the following, approximately:

Calories (Energy): 452 Kcal (1873 KJ)
Protein: 24 grams
Carbohydrates: 1.3 gram
Fat: 39 grams minimum (by dry extract)

Ingredients

Raw sheep's milk, lactic ferments and preservatives.

Expiry date

Minimum 1 month after delivery.
---
Packaging & shipping
Packaging
The cheese ships in a cardboard carton. It is vacuum-packed (see picture).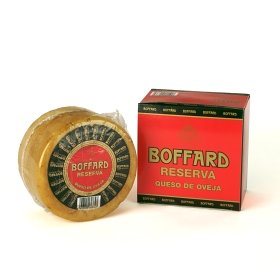 Packaging & shipping
¿Do you want it delivered on a different date?
Contact us
after placing your order, and we will ship it on the date of your choice.
---
Why buy from IberGour?
Specialists in online sales
More than 11,000 clients throughout Europe
Direct selling from Spain, at spanish prices
---
Our customers' reviews

immense
, November 16, 2012
jose antonio del barrio gomez (en benidorm) Has never purchased at IberGour
great product it to my grandfather in reinosa hermenegildo gomez and took to his grave the formula that only wise to be retained either in transport by boat to the americas

good
, November 1, 2012
giobaba (dresden, DE) Has purchased this product at IberGour
good product, similar to pecorino, dry and intense. bought for curiosity, unfortunately, does not compare with the Italian excellence

Excellent
, March 1, 2012
Jaime Martínez González (Badalona-Barcelona) Has purchased this product at IberGour
If I bought it is because I had tried and I recommend it. I bought for myself and 6 friends

SERVICE AND PRODUCT IMPECCABLE
, October 28, 2011
G.A. (Barcelona) Has purchased this product at IberGour
The service, product and antención of Ibergour have been excellent. We arrived on time and product in perfect condition. A product and service that are are ideal for gifts. They recommended Ibergour and really we have found what we were looking at an unbeatable price compentent. Congratulations. Will buy in Ibergour.

reserve Boffard cheese
, September 29, 2011
jesus (vigo) Has purchased this product at IberGour
The truth is that I like very much ... will leave a taste in the mouth that takes away, plus it has a touch strong and intense that I love, I believe that this very rich Quse recommended.
---
You are sharing your opinion on...

Boffard Reserva Sheep Milk Cheese
Publish your review of: Boffard Reserva Sheep Milk Cheese
---
Other products from Mantequerías Arias