Cerdos Extremeños Salchichon Iberico Bellota

(based on

13

customer reviews)
Price:

€20.17

(

€18.34

/Kg) +

€15.83

Standard Shipping costs (

€9.20

for orders over

€200.00

)
---
Other formats

100 gr Pack of Extremadura Iberico de Bellota Salchichón
15% discount on a purchase of 10 or more packs
---
Better together
---
Other similar products
---
Description of Cerdos Extremeños Salchichon Iberico Bellota
Price

€18.34

/Kg VAT included

Breed

Iberian

Diet

Bellota Top quality: pig fed exclusively on acorns (more)

Origin

Extremadura

Producer

Cerdos Extremeños

Processing

Ingredients

Iberian fatty pork meat, black pepper, salt and nutmeg.

Production

Storage

Because it has been vacuum packed, it should be removed from its wrapping 20 minutes before it is to be eaten to allow flavours to develop. Its ideal appearance, colour and consistency are achieved if it is allowed to air for 24 hours.

Once the vacuum seal is broken the product must be removed from its bag. Please store it at between 0 ºC and 5 ºC (32 to 41 ºF).

Expiry date

Minimum 2 months after delivery.
---
Packaging & shipping
Packaging
The salchichón (see photo) is vacuum packed, and comes packaged in a cardboard box.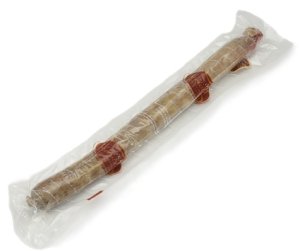 Packaging & shipping
¿Do you want it delivered on a different date?
Contact us
after placing your order, and we will ship it on the date of your choice.
Returns guarantee
If your product is faulty, we will exchange it or refund your money. We will cover the full cost of returning the item and shipping the new one.
Items must be returned in the original packaging within 15 days after the date of delivery.
We cannot accept returns if the weight of the piece returned is less than 75% of the original weight.
---
Why buy from IberGour?
Specialists in online sales
More than 11,000 clients throughout Europe
Direct selling from Spain, at spanish prices
---
Our customers' reviews

good sausage
, February 23, 2013
The quality is good. The only criticism that can be achieved is due to the presence of fat in a bit embarrassing and surprising finish for the uninitiated

very nice
, March 31, 2011
Anonymous (london) Has purchased this product at IberGour
very nice, excellent value for money.
delivery was fast and the company responds quickly and competent to any question send via email.
i will definitely be back for more!

regular
, December 29, 2010
ema (Donostia) Has purchased this product at IberGour
Get very soft, poor preparation, much fat, poor gut and lack of drying time, the taste is not bad, but there are better and cheaper.

a bit fat
, October 30, 2010
doulay (normandie) Has purchased this product at IberGour
I prefer it drier and less greasy but it's still a very good taste at the product. aperitif between friends.

Absolutely our taste
, August 5, 2010
This sausage was quite sure I buy again. Excellent flavor, keeps well, you should absolutely empfehlenswertund. How Pata Negra ham, hanging, dark 20 degree maximum stored up and also.
---
You are sharing your opinion on...

Cerdos Extremeños Salchichon Iberico Bellota
Publish your review of: Cerdos Extremeños Salchichon Iberico Bellota
---
Other products from Cerdos Extremeños Ham, Shoulder & Charcuterie