Ham holder & ham carving knife

(based on

58

customer reviews)
In Stock
Free with all Hams and Shoulders
---
Other similar products
---
---
Description of Ham holder & ham carving knife
Ham holder

For cutting hams and shoulders
Easy disassembling and reassembling
Stainless steel anchoring pieces
Rigid wood
Weight: 1.3 kg
Platform Size: 38.5 x 17 cm.
Height: 40 cm.

Ham carving knife

Stainless steel blade
Wooden handle
Blade length: 25 cm.
---
Packaging & shipping
Packaging
The holder ships disassembled in a small cardboard carton. All needed tools are included.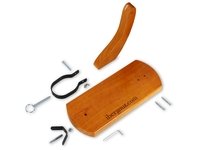 Ham holder parts, and assembling tool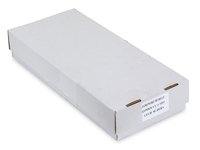 Packaging cardboard carton
---
Why buy from IberGour?
Specialists in online sales
More than 11,000 clients throughout Europe
Direct selling from Spain, at spanish prices
---
Our customers' reviews

SUPPORT AND KNIFE
, April 22, 2013
SIMONE (TORINO) Has purchased this product at IberGour
The media is not easily mountable and a little dancer. All in all functional for the purpose of cutting the ham. The knife is a little thin, but very sharp. Considering that the material is included in the price, the whole difinirei acceptable.

support
, March 30, 2013
maxito (montauban) Has purchased this product at IberGour
The gift is very nice But quality improvement. It's a shame because it really helps a lot to have the support. To improve, maybe!

support and ham knife
, February 25, 2013
Marco (firenze, italia) Has purchased this product at IberGour
Okay, this time the kit came with screws and bolts for a perfect assembly. Useful and welcome gift, congratulations and thank you.

Great Starter Kit!
, February 18, 2013
Gem (Manchester, UK) Has purchased this product at IberGour
Especially considering that I received the holder and knife as a freebie with my ham order, I think that the items are of very good quality! The holder is very sturdy and easy to use, the knife is sharp and slices the ham perfectly.
Excellent value, I wouldn't hesitate to recommend them (and in fact I already have recommended the entire ham bundle to friends!!)

Considering that it is in tribute ...
, February 11, 2013
Paolo Torri (Montefiascone (Vt)) Has purchased this product at IberGour
Support makes his job, some could be better but it works well. The knife is not the best but as I wrote a tribute so everything is fine.
---
You are sharing your opinion on...

Ham holder & ham carving knife
Publish your review of: Ham holder & ham carving knife