Slightly Hot Chorizo en sarta Iberico Bellota 250 gr
Customers Who Viewed This Item Finally Bought
Description of Slightly Hot Chorizo en sarta Iberico Bellota 250 gr
Brand

Ibéricos Frexnense

Breed

Iberian

Diet

Bellota Top quality: pig fed exclusively on acorns (more)

Origin

Extremadura

Producer

Ibéricos Frexnense

Net weight

250 gr

Ingredients

Lean meat from Iberian pigs, red pepper, salt and garlic.

PRESERVATIVES AND COLORANTS FREE.

Production

Storage

Because it has been vacuum packed, it should be removed from its wrapping 20 minutes before it is to be eaten to allow flavours to develop. Its ideal appearance, colour and consistency are achieved if it is allowed to air for 24 hours.

Once the vacuum seal is broken the product must be removed from its bag. Please store it at between 0 ºC and 4 ºC (32 to 39.2 ºF).

Expiry date

Minimum 2 months after delivery.
Packaging & shipping
Packaging
The chorizo (see photo) is vacuum packed.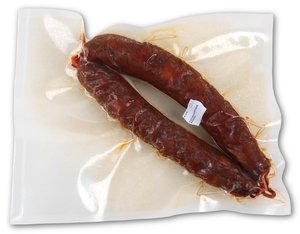 Returns guarantee
If your product is faulty, we will exchange it or refund your money. We will cover the full cost of returning the item and shipping the new one.
Items must be returned in the original packaging within 15 days after the date of delivery.
We cannot accept returns if the weight of the piece returned is less than 75% of the original weight.
Why buy from IberGour?
Specialists in online sales
More than 16,000 clients throughout Europe
Direct selling from Spain, at spanish prices
Our customers' reviews
Nobody has reviewed this product yet.
You are sharing your opinion on...

Slightly Hot Chorizo en sarta Iberico Bellota 250 gr
Publish your review:
Customers Who Viewed This Item Also Viewed
Ibéricos Frexnense Ham & Shoulder
---
Av. Ventura Gassol 13 bajos - 08901 L'Hospitalet de Llobregat (Barcelona, Spain). CIF: B64132772