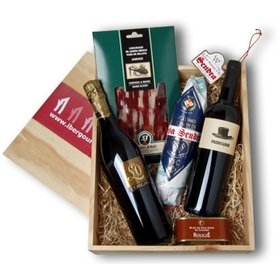 Christmas Hamper Predicador (ref. 07A06)
This hamper's content
1 x pack of "Iberico" Ham 5J CINCO JOTAS Hand-carved 100 gr
1 x SENDRA "Salchichon Cular"
WOODEN BOX with IberGour label
"Iberico" Ham 5J CINCO JOTAS Hand-carved 100 gr
Thin hand-cut slices vacuum packed to ensure preservation and maintain flavour, texture and colour.
This Jabugo ham is the star product of Sánchez Romero Carvajal, the most international of Spanish bellota-grade products. [browse 5 Jotas Bellota Ham - Hand-sliced]
SENDRA "Salchichon Cular"
Casa Sendra uses only the best cuts to make this salchichon: fillets, hams and shoulders. The lean meat is carefully selected and the cartilage, nerves and soft intramuscular fat are discarded.
Coq d'Or prize in 2006 as the best Spanish producer, awarded by the prestigious French publication Le Guide des Gourmands. [browse Sendra Salchichon]
WOODEN BOX with IberGour label
Comes in a nailed wooden box with a label bearing the IberGour logo. The box is shipped in a heavy cardboard carton to protect it.
We can include a gift message free of charge (you can compose your message later when you fill in your shipping and payment details).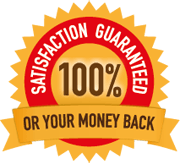 We guarantee that you will love this product, or we will pick it up for free and give you a full refund
6 months guarantee
No questions asked
No small print
Why buy from IberGour?
Specialists in online sales
More than 25,000 clients throughout Europe
Direct selling from Spain, at spanish prices
Our customers' reviews
Nobody has reviewed this product yet.