Iberian ham qualities
Since 2014, the law regulating Iberian ham has established four colors to designate the different qualities of Iberian ham. We must pay attention to the color of the plastic seal that the ham or shoulder must have around the hoof: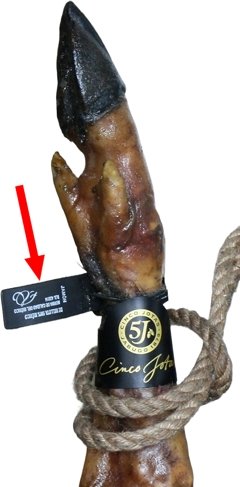 The best Iberian ham at IberGour
Since our foundation, back in late 2005, the Iberian ham is the essence of our business, something that is reflected in our name and in our catalog. We started with only two products for sale: acorn-fed Iberian hams and shoulders with the Dehesa de Extremadura Denomination of Origin, produced by a small producer in the Sierra de Montánchez (in the province of Cáceres, Extremadura). Our vocation: to sell only hams and shoulders that we ourselves would consume in our homes with our families, and to back them up with a full guarantee, so that our customers could buy their ham with complete peace of mind.
Currently, we sell Iberian ham from small producers of the four Denominations of Origin of Iberian ham in Spain: Extremadura, Guijuelo (Salamanca), Jabugo (Huelva) and Los Pedroches (Córdoba). Our catalog is completed by Iberian hams and shoulders from the most prestigious brands, such as Cinco Jotas, and also hams and shoulders that, without being called "Iberian" —after the 2014 Iberian law, in order to call a ham "Iberian" it must be certified, and some producers prefer not to do so and thus avoid this extra cost— enjoy the greatest prestige, such as Joselito or GM e Hijos.
Which Iberian ham should I buy?
As mentioned above, at IberGour you can buy Iberian hams and shoulders from the four Denominations of Origin of Iberian ham in Spain:
We also have hams and shoulders of the Cinco Jotas (5J) brand, originally from the town of Jabugo, which is the producer par excellence of "pata negra" Iberian ham: hams from 100% purebred Iberian pigs (without crossbreeding with other breeds), and fed on acorns in the wild in the countryside.
We also have Iberian hams and shoulders of other brands, including some organic jamones. Select those with "Iberian"/"Iberico" in the description.
If you are not sure which ham to buy, you can also use our ham recommender, where we will help you choose the ham or shoulder ham that best suits your needs.
If you are looking for a ham to give as a gift, a good option is to give a gift voucher for the amount you want to buy at IberGour. They never expire and are very easy to use.
Do you have more information about Iberian ham?
Yes, we have full information on the production of Iberian ham. Here you will find tips on how to avoid disappointment when buying Iberian ham. We have answers to frequently asked questions about Iberian ham and a whole page dedicated to explaining how to slice, serve and store Iberian hams and shoulders.