How to buy top quality Spanish Jamon online
Iberico Spanish jamon serrano at IberGour
On the Internet you can buy top quality Spanish hams from highly reputable producers, with the same guarantees you would get from a brick-and-mortar shop. All that is needed is to find a reliable supplier, and obtain the necessary information on payment terms.
---
Buying on the Internet
Internet is a resource that offers customers many advantages. It is easy to check and compare product prices and characteristics, and it is convenient: you do it from the comfort of your chair and your purchase is delivered to your door.
However, you can't actually see the product, or take it home you. In other words, you can't control the most important part of the process: product selection and transport. There is also a widespread belief that payment over the Internet is not as secure as in a brick-and-mortar shop.
The information we provide you with below is intended to help you safely buy a premium Serrano ham online, but if you have any further questions please don't hesitate to contact us. We will be happy to help you.
How to recognize a premium jamón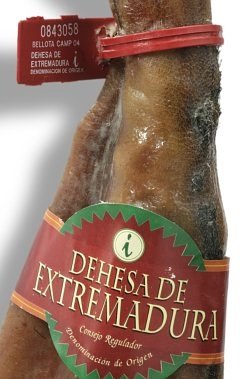 Red band and seal identifyng the Jamon de Bellota quality in the D.O. Dehesa de Extremadura
Iberico hams are characteristically long and slender, with a dark-coloured hoof. It is important that photos of the product show these features, and if the ham delivered to you does not meet your expectations you should have the option of returning it.
Another feature that should appear in photos is the band of the Producers' Association of the Designation of Origin. In the Dehesa de Extremadura Designation of Origin, Ibérico pigs that consume a diet of acorns and grasses during the finishing period bear a red band, and a seal with an individual code identifying them as "Bellota Campo" (free-range "bellota" quality).
Once the jamon has been delivered you should check to see that the colour of the meat is between rosy and purplish red, its texture is smooth and not fibrous, and that the fat is glistening, fluid and soft to the touch. If the ham you receive does not meet these characteristics and you are dissatisfied, you should be able to return it.
Brand, however, is not the best indicator of ham quality. There are producers that have earned a name for themselves in the course of more than 100 years, and there are others that have simply invested a lot in advertising. There are also small, artesanal producers such as those that supply IberGour, whose brands are not likely to become well known because their production is only a few thousand hams each year.
Consequently, if you are unfamiliar with the producer it is best to go by the certification of the Producers' Association of the Designation of Origin.
Reliable shops
The shops that you trust have earned that confidence year after year, providing quality products and seamless service. Similarly, you should be able to obtain a guarantee of quality when buying from a shop online. This guarantee should include such aspects as:
Comprehensive information about the ham and its quality: breed, diet, curing, etc.
Clear information on conditions of purchase: price of the ham, shipping charges, taxes, delivery time and payment method.
Company information: presentation, name and address, fiscal I.D., telephone, e-mail and a contact form.
Price: Prices should be neither very low nor excessively high.
Secure payment and transmission of personal data: personal data must be transmitted via a secure connection. Look for a closed padlock on the lower bar of your browser, and make sure the web address begins with 'https://'
As a safety measure, print the page confirming your purchase, and save copies of all e-mails received from the vendor.
Product return policy
Vendors are legally obliged to guarantee the quality of the products they sell. Consequently, if a product is not in good condition or does not meet your expectations, you are entitled to have it replaced or to get your money back by law, or according to the terms that appear on that website. In general the product cannot be returned when defects are due to negligence, abuse or misuse; you are advised to consult the conditions that apply, which should appear on the website. If you do not find the vendor's return policy on the website, ask that it be sent to you by e-mail, or find another vendor. Be wary of vendors who warn you that products cannot be returned or that just don't clearly communicate their return policy.
The vendor must pay for the cost of return, and either return your money or send you a replacement product promptly, as soon as possible after the delivery date.
Packaging and shipping
Some products, such as wine and perishable goods, must be transported under special conditions to avoid damage and to ensure they arrive in good condition. It is essential that the online shop provide information about packaging and shipping conditions, as well as estimated delivery time.
Serrano ham is not particularly fragile or sensitive to shipping conditions, unless the customer has requested that it be sent trimmed (without the rind). However, if it is to arrive in optimum condition it must be encased in a cloth bag and come packed in a cardboard or wooden box. In either case, the packaging should be intact when it arrives.
As for the shipping company, it may be well known but that alone is not a sufficient guarantee; here you will have to trust that the vendor has made a good choice. In any event, any defect in the package received should be reported to the vendor so that the necessary steps can be taken to replace the product or issue a credit for the amount of purchase.
The most reputable vendors will inform you by telephone or e-mail when the merchandise leaves their premises. Customers can then calculate how long it will take for the ham to arrive; no more than 3 to 4 days on the Iberian Peninsula, and no more than 10 days to other destinations.
See also
Jamon Iberico de Bellota hams in Spain
Available Products at IberGour