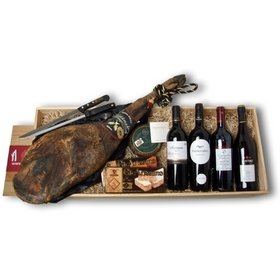 Christmas Hamper with Paleta Jamon Jarana (ref. 07P02)
This hamper's content
1 x SPANISH SHOULDER HAM (choose among 5J Cinco Jotas, Denomination of Origin Dehesa de Extremadura, Joselito or Maldonado)
1 x bottle of AZPILICUETA Reserva 2002 (red wine, Rioja)
1 x bottle of Fino JARANA (sherry, Jerez)
1 x ARCOS Universal ham cutting set
WOODEN BOX with IberGour label
SPANISH SHOULDER HAM
Spanish shoulder ham of the highest quality.
AZPILICUETA Reserva 2002 (red wine, Rioja)
Dedicada exclusivamente a la elaboración de vinos de crianza, reserva y gran reserva, Bodegas Juan Alcorta forma parte del gran grupo Domecq Bodegas, integrado, entre otras, por Bodegas Ysios (Rioja Alavesa) y Bodegas Tarsus (Ribera del Duero).
El Azpilicueta es un vino elegante, equilibradp y con personalidad, que guarda las características de la cosecha y de las variedades tradicionales. Criado 16 meses en barricas nuevas de roble francés y americano y 20 meses en botella, en nariz posee unos aromas sutiles a vainilla y membrillo. En boca es suave, sedoso y de agradable persistencia. Algo más que un buen acompañante de carnes blancas y rojas, caza, asados de cordero, cerdo o buey, aves, setas, quesos curados y azules. Servir entre 15º y 17º C. Graduación: 13,5º.
Fino JARANA (sherry, Jerez)
Criado con el sistema tradicional de soleras y criaderas, en botas de roble americano, en las bodegas centrales de Emilio Lustau, en la ciudad de Jerez de la Frontera, nos encontramos ante uno de los mejores finos de la península.
De color oro pajizo, destacan sus punzantes y delicados aromas de almendras. Ligero, seco y poco ácido, resulta irresistible servido frío (7º a 10º C) como aperitivo con jamón ibérico de bellota, o acompañando pescados. Graduación: 16º.
ARCOS Universal ham cutting set
This cutting set includes a 24 cm stainless steel blade ham carving knife and a sharpening steel. Dishwasher safe. [browse Arcos Universal ham cutting set]
WOODEN BOX with IberGour label
El lote se presenta en una caja de madera, claveteada y sellada con un membrete de IberGour. Esta caja de madera va envuelta en una caja de cartón grueso para garantizar su protección.
Podemos incluir gratis un mensaje de regalo (podrás indicarlo más adelante cuando rellenes los datos de envío y pago).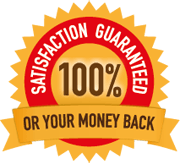 We guarantee that you will love this product, or we will pick it up for free and give you a full refund
6 months guarantee
No questions asked
No small print
Why buy from IberGour?
Specialists in online sales
More than 25,000 clients throughout Europe
Direct selling from Spain, at spanish prices
Our customers' reviews
Nobody has reviewed this product yet.