Arcos Universal ham boning knife

(based on

5

customer reviews)
---
Better together
---
Other similar products

---
Description of Arcos Universal ham boning knife
Price

€11.40

VAT included

Brand

Arcos Hermanos (Albacete, Spain)

Description

Arcos Hermanos (Albacete) directions on how to use this knife

Wash knives immediately after using
Avoid scrubbing with very abrasive scourers
Do not leave knives in water for more than 15 minutes
Dry with a soft cloth immediately after washing
Do not leave knives in the dishwasher after washing
Never use bleach, soda or chlorine detergents as they may cause rusting
Treat the blade with care and avoid striking it against a hard surface
Sharpen knives periodically with an appropriate sharpener
Be careful with the blade tip; avoid dropping the knife and do not use it as a screwdriver
---
Packaging & shipping
Packaging
The knife comes in a plastic and cardboard sheath (see photo).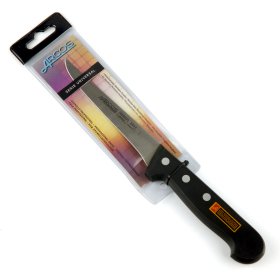 Packaging & shipping
¿Do you want it delivered on a different date?
Contact us
after placing your order, and we will ship it on the date of your choice.
---
Why buy from IberGour?
Specialists in online sales
More than 11,000 clients throughout Europe
Direct selling from Spain, at spanish prices
---
Our customers' reviews

Ham boning knife
, October 30, 2011
Graeme (London) Has purchased this product at IberGour
Excellent product and hassle free delivery, does exactly what you expect it to do.
Well made, good quality product at a good price

correct
, June 29, 2011
Nacho (La Rioja) Has purchased this product at IberGour
Not bad for the price, comfort and handling but not last very sharp.

Plastic Handle
, October 11, 2010
Angel Garcia (Onda (CASTELLON)) Has never purchased at IberGour
The Butchers Beterinarios in asking us plastico.Si handles it were not for the complaria incombeniente.

Good, clean cut knife
, September 21, 2010
Only used sparingly, but efficient at getting into the bone to clean up and remove hard to get to pieces of meat. A good accessory, along with the Arcos carving knife and Vulkanus sharpener.

Long life and optimum performance
, October 6, 2009
Riccard M. (Lanusei, Italia) Has purchased this product at IberGour
the knife has been very good in relation to its aesthetic and its durability and strength of performance and maintenance of the blade.
---
You are sharing your opinion on...

Arcos Universal ham boning knife
Publish your review of: Arcos Universal ham boning knife
---
Other products from Arcos Hermanos (Albacete, Spain)
---
Arcos cutlery - Albacete

Arcos Hermanos, S.A. has made high-quality cutlery for professional, table and kitchen use since 1875.
Arcos is located in Albacete (one of the world's leading cities in the cutlery sector) and exports to more than 60 countries on the five continents.
Half of the kitchen knives purchased in Spain alone are made by Arcos [laverdad.es, July 2006 (spanish)].
Arcos meets the ISO-9001 requirements and is certified by N.S.F., the N.S.F., Spanish food safety register, the Green Dot trademark and S.G.S. ICS Ibérica.