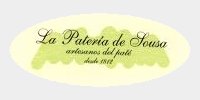 La Patería de Sousa is located in the town of Fuente de Cantos in Extremadura province. They became internationally known after receiving the Coup de Coeur award for innovation at the 2006 Paris International Food Show (SIAL) in France with their liver pâté from Iberian geese raised on the open range in animal-friendly conditions.
Since then, Sousa's "ethical" liver pâté has found a place on the international gourmet scene. Today it is a delicacy hard to find because it is made in small amounts.
The geese and pigs used are raised according to European legislation on animal well-being, living on the open range eating acorns, figs, wild plants and flowers, where they breed and the goslings and suckling pigs are raised.
The traditional method, popularised by the French, is based on force feeding the animals for 18 to 20 days before slaughter to make the liver as big and fatty as possible. Several scientific committees consider this a practice harmful for animal well-being and it has been banned in some countries. Marketing of liver pâté has even been banned in some places.
The Sousa family, of Danish origin, has made their pork- and goose-liver pâtés using artisanal methods since 1812. Pork-liver pâtés are made with the livers of Iberian pigs with the Extremadura Designation of Origin, and goose-liver pâtés come from native Iberian geese.