Joselito Chorizo Iberico Bellota

(based on

29

customer reviews)
Price:

€48.09

(

€36.99

/Kg) +

€15.89

Standard Shipping costs (

€9.20

for orders over

€200.00

)
---
Better together
---
Other similar products
---
Description of Joselito Chorizo Iberico Bellota
Price

€36.99

/Kg VAT included

Breed

Iberian

Diet

Bellota Top quality: pig fed exclusively on acorns (more)

Origin

Guijuelo, Salamanca

Producer

Joselito

Ingredients

Lean pork from bellota-grade Iberian pigs, paprika, garlic, sugar and sea salt. GLUTEN AND LACTOSE FREE.

Processing

Made from the best cuts, removed with a knife, marinated and stuffed into colon casings. A minimum curing time of 5 to 6 months in natural drying houses and cellars brings out nuances of aroma and flavour.

Production

Taste note

Its intense, juicy flavour reflects a balance between the structure of the flesh and paprika.

Nutritional information

Each 100 grams of this product contains the following, approximately:

Calories (Energy): 382 Kcal (1596 kJ)
Protein: 23,6 g
Carbohydrates: 2,1 g
Fat: 31,1 g
Fibre: 0 g
Salt: 0,9 g

Storage

Because it has been vacuum packed, the chorizo should be removed from its wrapping 20 minutes before it is to be eaten to allow flavours to develop. Its ideal appearance, colour and consistency are achieved if it is allowed to air for 24 hours.

Once the vacuum seal is broken the product must be removed from its bag. Please store it at between 0 ºC and 5 ºC (32 to 41 ºF).

Expiry date

Minimum 2 months after delivery.
---
Packaging & shipping
Packaging
The chorizo sausage ships in a cardboard carton. It is vacuum-packed (see picture).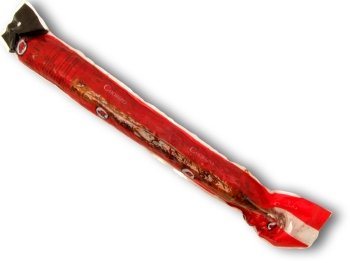 The chorizo, in its vacuum packaging
Packaging & shipping
¿Do you want it delivered on a different date?
Contact us
after placing your order, and we will ship it on the date of your choice.
Returns guarantee
If your product is faulty, we will exchange it or refund your money. We will cover the full cost of returning the item and shipping the new one.
Items must be returned in the original packaging within 15 days after the date of delivery.
We cannot accept returns if the weight of the piece returned is less than 75% of the original weight.
---
Why buy from IberGour?
Specialists in online sales
More than 11,000 clients throughout Europe
Direct selling from Spain, at spanish prices
---
Our customers' reviews

On the top
, April 18, 2013
Anonymous (Bois-Colombes) Has purchased this product at IberGour
In a word, as in thousand, chorizo ​​is the best I've ever tasted. Creamy texture without being sticky, delicious taste, balanced flavor, ideal maturation. I recommend it to all those who know what chorizo ​​means!

Good product!
, January 3, 2013
Like all chorizo ​​is a little fat, but not too much, it oozes a little ambient T °, ​​subtly flavored, soft and mild, except the price o)) But the rest of Joselito upscale

Very good buy
, December 10, 2012
Gerardo (Trentino Alto Adige de Italia) Has purchased this product at IberGour
Long ago I was looking this article. I was amazed at the quality and flavor found. I discussed this with friends and all have praised the dishes I made. Real good.

good quality
, October 16, 2012
GUALDE (NICE (FRANCE)) Has purchased this product at IberGour
This delicious chorizo! fragrant and tasty. You will not be disappointed as all products Josélito.

An unusual chorizo
, January 9, 2012
leroux (draguignan FRance) Has purchased this product at IberGour
Nothing to do with chorizo ​​that we find in France.Celui is very tasty with an extraordinary sweetness in long bouche.J 'command in every year and I have never been disappointed by either the product or by sending that done promptly as usual.
---
You are sharing your opinion on...

Joselito Chorizo Iberico Bellota
Publish your review of: Joselito Chorizo Iberico Bellota
---
Other products from Joselito Ham, Shoulder & Charcuterie
---
Joselito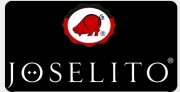 Several generations at Joselito have shared a single obsession: making the best ham in the world.
Little has changed in processing methods since Joselito was founded in the 19th century, and the producers remain faithful to the same values of their predecessors who began the adventure:
Their own herd of purebred Iberian pigs
Extensive woodlands where the pigs live on the open range
The largest number of hectares possible per pig reserved for exclusive use
Natural curing in drying houses and cellars, where tradition and modernity coexist in perfect harmony
Joselito has its own laboratory where a team of highly qualified specialists runs an extensive, revolutionary R&D programme designed to continue advancing in quality standards to make the best meat products in the world with 100% natural production methods.