Ramón Baiget, owner of Ibericsa, has been a livestock breeder all his life and is one of many who, convinced of the quality of their hams, have decided to distribute directly under their own brand rather than selling the production to third parties.
Over the years he has made a place for himself in the world of haute cuisine, especially in Barcelona province, and he was even a member of the panel of judges in Ramsay's Best Restaurant (Channel 4), the program created by the famous Scottish chef Gordon Ramsay. In the photo we see Ramón (right) chatting with other diners during the contest.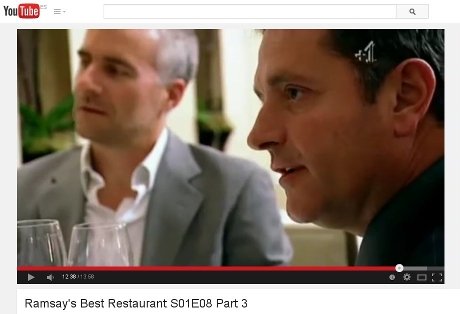 The recipe for a good ham is not complicated: pigs of selected breeds, quality feed for the first few weeks, at least 2 months on the open range eating acorns and grass until they nearly double their weight, and slow curing in natural cellars. Nevertheless, since the process can take as long as 4 or 5 years, strict control in each phase is very important.
The price-quality ratio for Iberian bellota ham from Ibericsa is very good. The flavor is mild, slightly sweet, as is traditional in Guijuelo, and it melts in the mouth.

Nice Ham
, August 20, 2015
Ege (Denmark) Has purchased this product at IberGour
Nice quality and taste of the ham. Especially nice since the product is one of the only additive free hams out there. Will be happy to buy again

More fat than meet
, June 30, 2015
Felipe (Edinburgh) Has purchased this product at IberGour
You get probably more fat than meet with this one. Some of the ones from Lidls have more meet than this one and for half the price. Not good value for money in my opinion.

Wouldn't reorder
, January 2, 2015
MColes (London) Has purchased this product at IberGour
I found this ham to be overly salty and there was quite a lot of tough dry meat which I had to throw away. The prime meat tastes ok however I'm not rushing to eat what's left of it and am unable to recommend this ham to others. Not bad but not good either. Great service from Ibergour otherwise.